We are Happy to Suggest the Following Companies & Their Products
Light- Life Tools:  Because all living things have an energy field and the energy field is regulated by the nervous system (yes even plants have a nervous system), geopathic stress amplifies imbalance. Heavy metal toxicity, for example, blocks electromagnetic pathways in the body. Add geopathic stress and EMFs and the body's symptom picture expands. Consider what happens when you stick a fork in an electrical outlet. Much of the mental illness, sleep issues, and chronic degenerative disease has a geopathic stress component.
Use HeartMath to transform feelings of stress, anxiety or frustration. With just a few minutes a day, these simple-to-use technologies help you transform stress into more peace, ease and clarity. Add HeartMath
 

techniques and technologies to your daily practice. Learn to live from the heart and unlock your inner guidance.
Equisync technology is an audio program that helps balance the right and left hemispheres of the brain. These are CDs or downloaded audio files that are listened to with stereo headphones. The benefits include instant deep meditation, enhanced brainwave patterns, brain synchronization, increased immunity, and relief from anxiety, stress, sleep disorders, and addictions.
InnerTalk is a patented technology that has been researched by numerous independent universities and institutions and been demonstrated effective at priming how you speak to yourself. InnerTalk is designed in such a way that the change you desire begins from within as a result of changing the way you talk to yourself, changing that internal chatter from self-doubt and worry to assured confidence and self-composure; thereby changing your expectation, attitude, and perception.
Thrive Market is on a mission to make healthy living easy and affordable for everyone. At Thrive Market, you can buy the best-selling healthy foods and wholesome products in everyday sizes, always up to 50% off retail prices, delivered to your home for free.
Berkey Water Filters provide the ultimate in waterbourne contamination removal.  They are used worldwide to set the international standard for water filters used in clean or hostile filtration environments. Owning a Berkey Water Filter gives you the ability to utilize almost any outside natural water source and transform it into the best tasting, purest drinking water possible.  All while using a natural method without the use of chemicals or complicated processes.
The Berkey water filter system is so powerful it is classified as a purifier. This classification shows that we far exceed the abilities of the standard water filter. The portable Berkey can be used to filter non-potable or unhealthy water in situations where electricity and pressure are not available.
Testing Devices:
We help practitioners determine their specific bio-assessment needs and goals, and discover which device will best complement their own unique design. In doing so, we have certain quality and service standards for the manufacturers and companies we choose to recommend. 
Because we have special arrangements with each company, if you desire a demonstration, wish to make a purchase or would like a consultation to find out which option is best for you...
There are lots of tools available to you the health practitioner these days.  And when you are thinking about investing your hard earned dollars you want to know you are making a good choice.
That's why:
You need a tool which can do more for you.

Avatar will help you quickly see behind the surface symptoms of your client to those often obscure stresses that create imbalance and keep the person from experiencing optimal energy.

Avatar gives you answers – it is specific – and not only you understand the information it shows, but also your client can understand it as well.

Using the bio-feedback facility of Avatar streamlines your consultation and allows you to ask those WHY questions.  It gives you on the spot information.

You get the answers you need to start working effectively with your client from the first consult.

Also – We put YOU at the top of the list – your needs, your training, your support – your assurance that you get the best value for your investment.
And – Avatar is light and portable – quick to set up and is battery driven – so you can use it anywhere you like.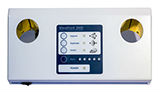 Please contact us before you purchase so we can reach out to the company directly and set up the right training that will align with the UMI college curriculum.
The RJL Quantum series of Bioelectric Impedance Analyzers (BIAs) provide the perfect solution for health professionals looking for a safe, repeatable, noninvasive measuring system for their clients. All of our BIAs provide fast, accurate readings of overall body composition, including:
Fat

Fat Free Mass

Total Body Water

Lean Dry Mass

BMR (Basal Metabolic Rate)

DEE (Daily Energy Expenditure)
With our Quantum Body Composition Analyzers, health care professionals will find a wide range of analyzers to fit just about any clinical or research setting. All of our analyzers are designed to be completely portable, making them easy to use anywhere you need to use them.